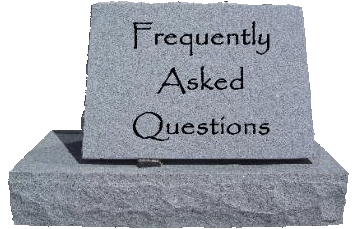 During these difficult moments many questions arise and it's hard to make decisions and choices. At Iniloe we have compiled a list of frequently ask questions that will help you understand and assist you with choices available.
Question...
What is the best time to order the tombstone?

Each family is different, but the best is to start as soon as possible because if you want to for the birthday, anniversary, for any important date or if it is a very special design, we need time.
Question...

e
How long it takes to install the tombstone?

This is a good question, because for each tombstone is different, there are a lot factors in the process, first is the family, the time they need to approve the design, secondly if it is a headstone that we have in existence or is something special (in the size and color) in third place are the paperwork at the cemetery and if the weather allows you to do the installation, once all approved documents are submitted there's a 30 days installation window for the tombstone and if not, you can lengthen a lot more time.
There are many factors that are involved in the preparation of the tombstones, so we recommend starting as soon as possible to meet your special requested deadline.
HEADSTONES ASSURE THAT LIVES CAN BE DOCUMENTED FOR CENTURIES